Skip to end of metadata
Go to start of metadata
Initializing Rutoken authentication dongle
Please note that all the contents of Rutoken device will be permanently erased during the initialization.
All the contents of Rutoken ECP 2.0 Flash data card will be erased during the initialization if user PIN has been blocked before.
Rutoken Disk software will be completely disabled after the initialization.
To restore Rutoken Disk software after the initialization please follow the manual.
It's impossible to reinitialize blocked Rutoken device of earlier versions (marked as 0B0Z or 0D3Z on the device enclosure), you need to purchase a new one.
Please follow the manual to install or update Rutoken drivers.
Click Rutoken Control Panel icon on Windows desktop or type Rutoken Control Panel in Windows search panel to start it.
When Rutoken Control Panel is opened select Administration tab. Then click the Login button in upper right corner.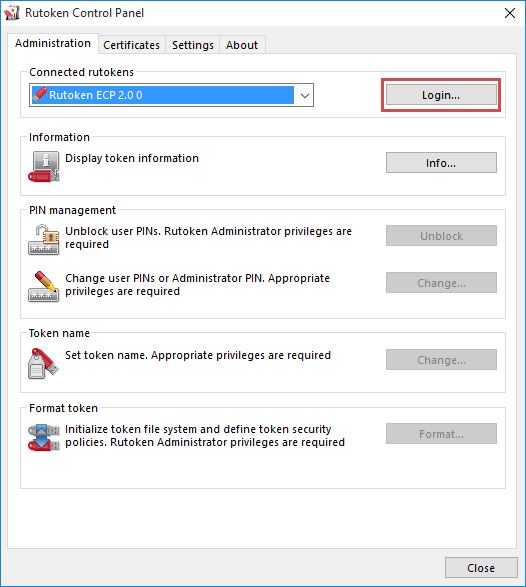 logon dialog choose the proper Rutoken device by selecting it in the dropdown box and tap Administrator radio button. Then enter Admin PIN and press OK.
The default Admin PIN is 87654321.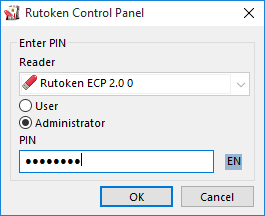 If Admin PIN is lost, you need to block Rutoken device by entering invalid PIN value so many times as required. The invalid PIN length should be greater than 6.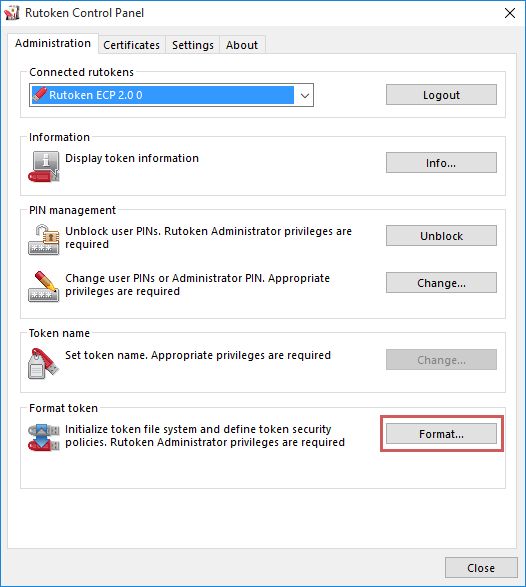 After Format… button is enabled click it to open Format token dialog box.
In this dialog you may set the new values of token name, User and Admin PIN's and permit the account keepers to change user PIN.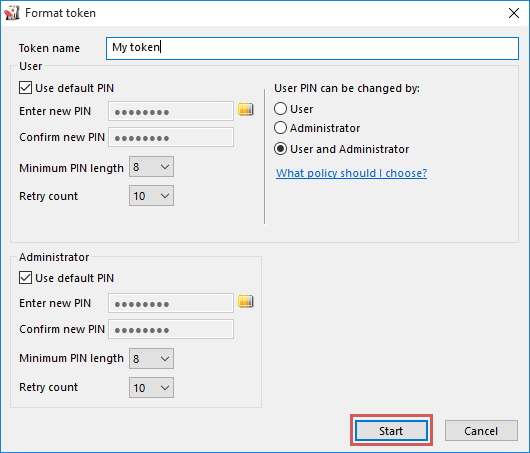 Now click the Start button to process the initialization of Rutoken device. Click Yes to skip the warning dialog on No to prevent the operation.

Do not disconnect the Rutoken device or turn off the computer before the initialization is complete.